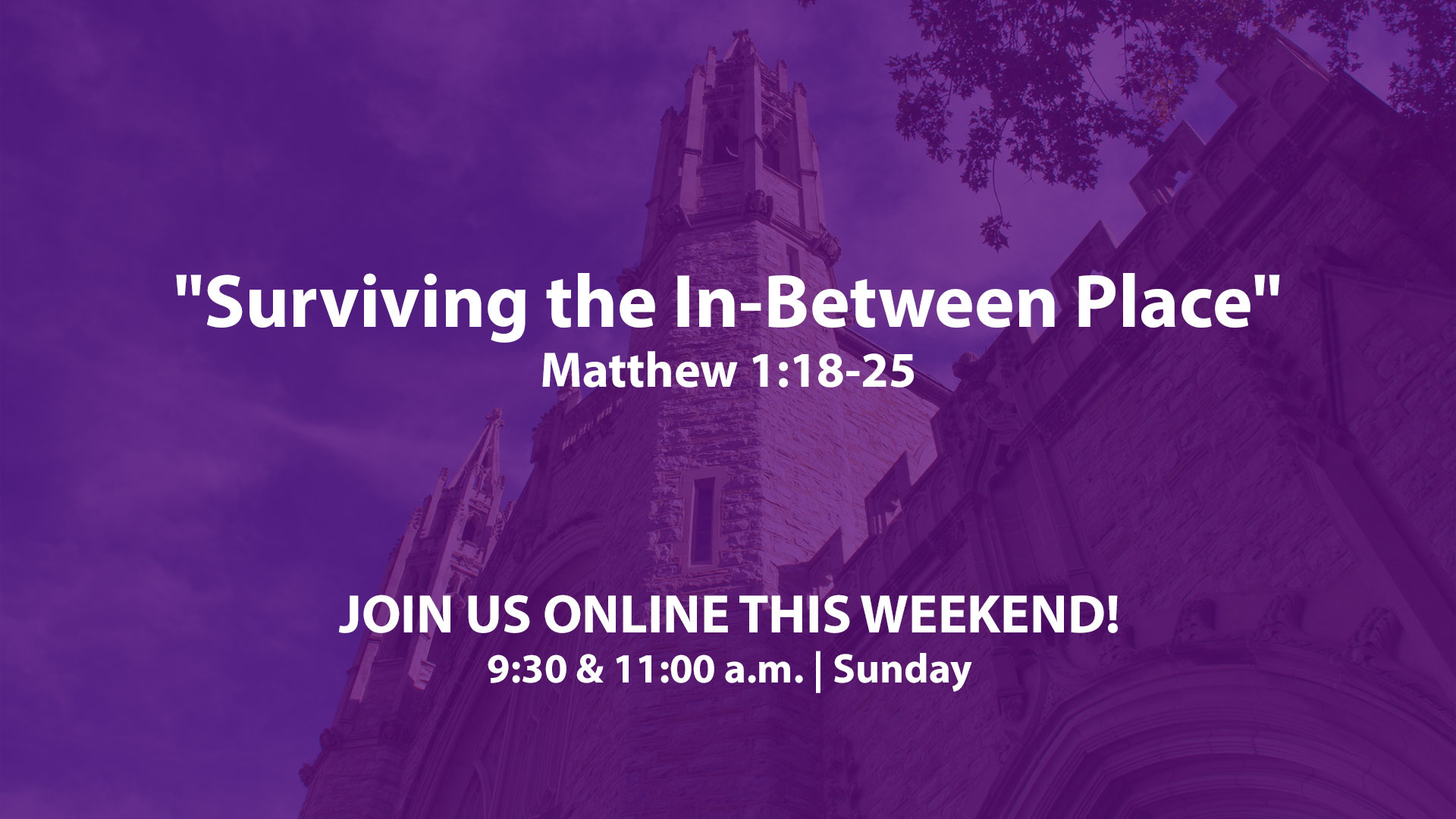 March 22, 2020
The church building may be closed, but the "people who are the church" will be together – separately! We will be worshiping online only this Sunday. Only essential staff members will be admitted entrance to the building.
Scripture: Matthew 1:18-25
Message: "Surviving the In-Between Place"
Live Stream: 9:30 & 11:00 | fumctulsa.org | FUMC App
Worship Resources (Song Lyrics, Etc.): fumctulsa.org/worship
Worship Resources
fumctulsa.org/worship
Need words to the songs? Looking for a Sunday school lesson for your kid? We've got a new page of resources just for you. It includes lyrics for songs sung at both live stream services, video lessons from our First Kids and Firsties directors, and more.
Small Group/Sunday School Resources
In these times of social distance, it's up to all of us to find new ways to connect with one another! Use virtual meeting software like ZOOM or FaceTime to gather online. If you need some curriculum for your group or something to listen to together, check out our entire selection of online resources.
Spring Women's Event | Event Cancelled
Saturday, March 28
Because of ongoing global health events, this event has been cancelled.
UPCOMING OPPORTUNITIES
These are tentative as our local situation continues to unfold.
Holy Thursday Service of Darkness
Thursday, April 9 | 7:00 p.m. | Sanctuary
On Holy Thursday, we recognize the movement of Jesus from the last supper with his disciples into the garden to pray, and ultimately onto the cross. This is a moving service of scripture readings, reflection, preparation, and remembrance of our Lord Jesus' suffering, death, and burial that paid the debt for our sin and bought for us eternal life.
Easter Celebrations
Sunday, April 12 | 9:30 & 11:00 a.m. | Sanctuary
If the cross of Jesus was the end of the story (as most thought it was), the human situation is far more bleak than we ever imagined. But it wasn't the end. When Jesus rose from the dead, it showed us that in as much as we are more lost than we ever imagined, we are more loved than we ever dreamed. When you truly understand the message of Easter, you'll find things will never be the same. We invite you to use this Easter as an opportunity to bring someone into a loving relationship with Jesus Christ. Choose a service that fits you, and together we'll celebrate the risen savior.

FIRST FAMILY BUSINESS
Beacon Scholarship Deadline Approaching
Graduating high school seniors and previous Beacon Scholarship award winners are invited to apply for the Beacon Memorial Scholarship. This fund helps students who wish to continue their education after high school and awards are made based on financial need, scholarship, citizenship, and Christian witness. Scholarship application materials may be downloaded at fumctulsa.org/beacon. Applications are due on April 1. Late submissions will not be considered.
Four Ways To Give At First!
You can give your tithes and offerings online at fumctulsa.org/give, via text to 918.871.2010, by mailing your check to 1115 S Boulder Avenue, Tulsa, OK 74119, or in the Sunday offering plate.
Podcasts
Subscribe to "FUMC Tulsa" and "First U Tulsa" on Apple Podcasts. These subscriptions will deliver Sunday's messages and other teachings straight to your phone!
Update Your Record Online
Create an account at fumctulsa.infellowship.com (use the email on record with FUMC). You can update your address, check your giving statement, and register for FUMC events.
First on TV
Miss a service? Watch it the following Sunday at 10:00 a.m. on Cox Cable channels 9 and 1009, ATT UVerse 47, DISH 47, and antenna 47.1.
Our provider, KWHB, is under new ownership and our show may not air as they transition equipment and programming. Our time slot will not change.
FUMC Learning & Group Resources
Did you enjoy a particular Sunday school lesson and wish you had access to the material? Check out our online resources section at fumctulsa.org/media.
Digital Bulletins
When you come to church this Sunday, access your bulletin on the First Methodist app. Find it under the "home" tab. Digital bulletins help us reduce our printing and save money!
First United Methodist Church of Tulsa | 1115 S Boulder Avenue | 74119
918.592.3862 | fumctulsa.org