Spring Women's Event
Saturday, March 28 | 9:00-11:30 a.m. | Thomas Hall
All women are invited to our next Refresh Women's Event on Saturday, March 28! Our special guest speaker will be Rhonda Bear. Rhonda received a 10 year sentence 15 years ago for multiple drug-related charges. After taking part in many programs while she was incarcerated, she came out of prison with a personal mission to help women and children in Oklahoma just as she was helped by multiple programs in prison.
Music for the morning will be led by Phil Armstrong. Registration is open at fumctulsa.org/women.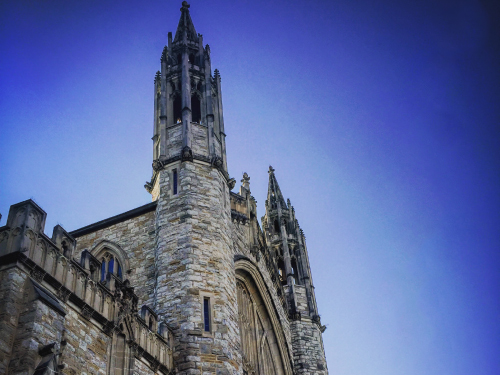 March 15, 2020
Scripture: I Chronicles 16:23-31
Message: "The Wonder of Worship!"
Live Stream: 9:30 & 11:00 | fumctulsa.org | FUMC App

Holy Thursday Service of Darkness
Thursday, April 9 | 7:00 p.m. | Sanctuary
On Holy Thursday, we recognize the movement of Jesus from the last supper with his disciples into the garden to pray, and ultimately onto the cross. This is a moving service of scripture readings, reflection, preparation, and remembrance of our Lord Jesus' suffering, death, and burial that paid the debt for our sin and bought for us eternal life.
Easter Celebrations
Sunday, April 12 | 9:30 & 11:00 a.m. | Sanctuary
If the cross of Jesus was the end of the story (as most thought it was), the human situation is far more bleak than we ever imagined. But it wasn't the end. When Jesus rose from the dead, it showed us that in as much as we are more lost than we ever imagined, we are more loved than we ever dreamed. When you truly understand the message of Easter, you'll find things will never be the same. We invite you to use this Easter as an opportunity to bring someone into a loving relationship with Jesus Christ. Choose a service that fits you, and together we'll celebrate the risen savior.
Healing Prayer Class
Begins Sunday, March 15 | 5:30 p.m. | Parker Hall
The Spring 2020 Healing Prayer Class will use Randy Clark's curriculum, POWER to HEAL. The power of the Holy Spirit is available. It's within you. You simply need to step out, believe you are anointed, trust that God wants to use you, and start taking risks. This class will use Randy Clark's curriculum, POWER to HEAL: 8 Weeks to Activating God's Healing Power in Your Life. Class members will need access to the books, Power to Heal, and Power to Heal Study Guide.
Register for the class by calling or emailing Donna at 918.592.3862 or congregationalcare@fumctulsa.org.
Soul Keeping
Begins Sunday, March 15 | 4:00-5:15 p.m. | Parker Hall
"Soul Keeping: The Sacred Stewardship of Souls...Ours and Others" is an eight-week course. The course focuses on how we care for souls, ours and others, using the book of the same name by John Ortberg. If you're interested in becoming a CARE Chaplain for FUMC, or spend time caring for family and friends, this course is for you. Class members will need access to the book, Soul Keeping: Caring for the Most Important Part of You.
Register for the class by calling or emailing Donna at 918.592.3862 or congregationalcare@fumctulsa.org.
New Precept Bible Study!
Thursdays, Beginning March 19 | 9:30 a.m.-12:00 p.m.
A new precept Bible study on the book of Jude is coming! This study involves group discussions, workbook assignments, and a video series. The workbook costs $12. Get more information about joining the study by contacting Joanna at jlc.jpc4@gmail.com or call or text 918.595.5762.
Easter Lily Orders!
Every Easter the sanctuary is decorated with lilies. These beautiful trumpet shaped white flowers were brought to the United States in 1875 from Japan by an American tourist.The flower tells the resurrection story with its life cycle and the white flowers symbolize new life and hope.
To order a lily for $15, visit fumctulsa.org/easter. The deadline to place your order is March 20. If you have questions, call Lory at 918.592.3862.
Summer 2020 Outreach and Discipleship Program
Program Begins June 1, 2020
Applications Due March 12, 2020
If you are a college student or know of one who is interested in global outreach, then our 2020 Summer Outreach and Discipleship Program may be for you! Our 10-week program will start on June 1 and go through August 9, 2020. Each week will provide a unique opportunity be serve in various outreach ministries of our church, community, and region. Participants will be given the opportunity to grow deeper in their relationship with Christ and develop leadership skills alongside other college students. Applications are due March 12, and those accepted into the program will receive a $150/week stipend. Applications may be found at fumctulsa.org/global-outreach.
International Community Outreach Training
April 1, 2020 | 6:00 pm - 8:00 pm | Parker Hall
Missions is taking on a new look! In increasing numbers, the nations are coming to us. They are on our doorstep! Some of the most unreached nations in the world—in the 10/40 window—are right here in Tulsa. Join International Community Outreach and First United Methodist Church to see how you can get involved in amazing mission opportunities. This training will show how you how can interact with the lost and build relationships through which to share your faith. This summer we'll have some great opportunities for you to get involved. This training will be your first step. We hope to see you there! Dinner will be provided. Please RSVP at jengreenaway@fumctulsa.org.

FIRST FAMILY BUSINESS
Beacon Scholarship Deadline Approaching
Graduating high school seniors and previous Beacon Scholarship award winners are invited to apply for the Beacon Memorial Scholarship. This fund helps students who wish to continue their education after high school and awards are made based on financial need, scholarship, citizenship, and Christian witness. Scholarship application materials may be downloaded at fumctulsa.org/beacon. Applications are due on April 1. Late submissions will not be considered.
New Members
Welcome to the newest members of the First family!
Simon Ipe and Elizabeth Simon and Russ Hargrove and Julie Chin Hargrove, and Payton
Our Sympathy
Our sympathy to Kay Pinson, family, and friends in the death of Gary Pinson on February 24.
Four Ways To Give At First!
You can give your tithes and offerings online at fumctulsa.org/give, via text to 918.871.2010, by mailing your check to 1115 S Boulder Avenue, Tulsa, OK 74119, or in the Sunday offering plate.
Podcasts
Subscribe to "FUMC Tulsa" and "First U Tulsa" on Apple Podcasts. These subscriptions will deliver Sunday's messages and other teachings straight to your phone!
Update Your Record Online
Create an account at fumctulsa.infellowship.com (use the email on record with FUMC). You can update your address, check your giving statement, and register for FUMC events.
First on TV
Miss a service? Watch it the following Sunday at 10:00 a.m. on Cox Cable channels 9 and 1009, ATT UVerse 47, DISH 47, and antenna 47.1.
Our provider, KWHB, is under new ownership and our show may not air as they transition equipment and programming. Our time slot will not change.
FUMC Learning & Group Resources
Did you enjoy a particular Sunday school lesson and wish you had access to the material? Check out our online resources section at fumctulsa.org/media.
Digital Bulletins
When you come to church this Sunday, access your bulletin on the First Methodist app. Find it under the "home" tab. Digital bulletins help us reduce our printing and save money!
Calendar
Wondering what room your meeting is in? Need to know when that Bible study starts back up? Head over to fumctulsa.org/calendar to see this week's calendar. You can see future events on the calendar on the FUMC app.
First United Methodist Church of Tulsa | 1115 S Boulder Avenue | 74119
918.592.3862 | fumctulsa.org